Manson collapsed on stage!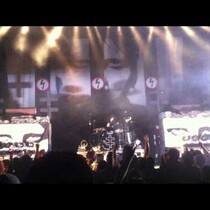 Posted February 8th, 2013 @ 1:16pm
Marilyn Manson's concert in Saskatoon, Saskatchewan on Wednesday night had to be cut short after he collapsed onstage while performing "The Beautiful People." Apparently Manson knelt on the stage shortly after the song began and vomited before falling backward. Although the band kept playing for a few moments, members of the crew eventually came onstage and carried Manson off, ending the show. They now say "It's the Flu!" Yeah... right...