How Do You Rate As a Tipper?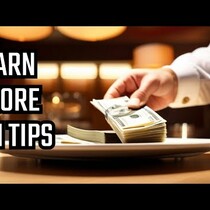 Posted June 5th, 2013 @ 3:54pm
How are you at Tipping? 57% of Americans tip regularly and are the 2nd best tippers in the world. It's the Germans at 69% who lead the way.
It seems, 1 in 4 Italians tip with regularity! Ouch...."Forget about it"!
So our TOPIC OF THE DAY: It's a two parter so both "Tippers" and "Servers" can both play.
DO YOU FEEL THAT YOU TIP ADEQUATELY FOR THE SERVICE YOU RECEIVE FROM MEMBERS OF THE SERVICE INDUSTRY?
DO YOU, AS A SERVER, FEEL THAT YOU ARE MOSTLY TIPPED IN A FAIR MANNER AND IF YOU WANT TO ALSO ADD, WHO TIPS THE BEST? MEN? WOMEN? OLDER? YOUNGER? AMERICANS? OTHERS?
It's our topic of the day on Facebook, so weigh in and join the conversation!